On July 25, 2020, Italian Laura Rogora wrote climbing history: a woman of this age has never climbed a route with difficulty level 9b. And only one woman managed to do that before.
Laura Rogora already provided for some LACRUX article in the current year, because their performance curve showed a steep upward trend in 2020. It comes as no surprise that the 19-year-old Ali Hulk Extension Total Sit Start in the Ali Baba Grotto near Rodellar was able to score a 9b climbing route. This was achieved only before a woman, the Austrian Angela Eiter with the ascent of Planta de Shiva.
Endurance hammer in Rodellar
At the route Ali Hulk Extension Total Sit Start it is a 90-moves climb that only offers two rest points. The sit start version is an extension of around 16 trains (7c) of the Route Ali Hulk Extension Total. The route was first ascended by Jonathan Flor around a year ago and a few hours later repeated by Jorge Diaz-Rullo .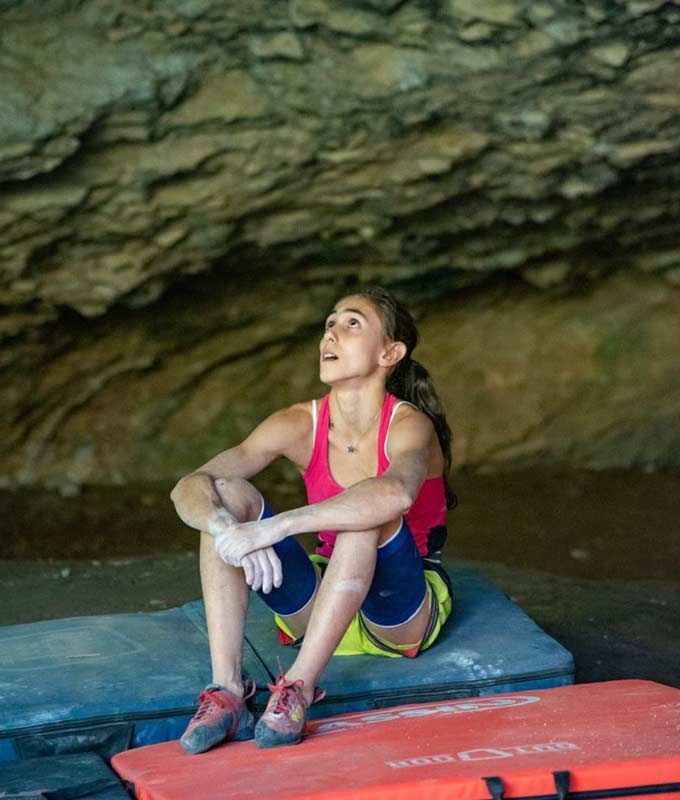 Laura Rogora makes short work of it
As said at the beginning, the performance curve of Laura goes straight up. So steep that she only had to invest a few days to climb Ali Hulk Extension Total Sit Start (9b). Two days ago she redpointed Ali Hulk Extension Total (8c +) and only needed two more days to add the sit start to the line. The 153 centimeter tall and 19 year old climber has already climbed over a dozen routes in the range 8c + / 9a to 9a + and is therefore one of the strongest women in the world.
Do you like our climbing magazine? When we launched LACRUX, we decided not to introduce a payment barrier. It will stay that way, because we want to provide as many like-minded people with news from the climbing scene.

In order to be more independent of advertising revenue in the future and to provide you with even more and better content, we need your support.

Therefore: Help and support our magazine with a small contribution. Naturally you benefit multiple times. How? You will find out ..
That might interest you
Laura Rogora on Pure Pureing Plus
Credits: pictures Marco Iacono